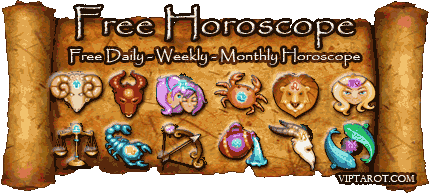 Are you looking for free daily love horoscope or weekly, monthly or even yearly/annual horoscopes? Want to know more about your love life and what compatible signs will go well with your zodiac sign? Do you need to know more about attitudes, personalities and behaviors base on person's horoscopes or zodiac signs? Are you eager enough to see what will the future holds for you for the day, for the week, for the month or even for the whole year? Then this is the perfect page for you to browse.
VIP Tarot Horoscope offers free horoscope on daily basis. Also you can find here weekly horoscopes, monthly and even yearly horoscope that can help and guide you not only to see what the future holds for you but also get the best horoscope readings for free.
Choose Your Zodiac Sign To View Your Daily Horoscope
Get Your Daily Horoscope For Free: please choose your zodiac sign below to get your daily horoscope reading and to get guidance to start your day right.